Wilson Lee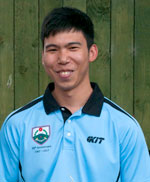 I completed the beginners course in 2012 with St. Helens Archers but it wasn't only till 2015 before I decided to pursue the sport. Regretting not doing so earlier I now shoot regularly, shooting recurve which I'm enjoying very much.
During my first year I achieved my 1st class classification swiftly followed by a bowman classification during my second year. I'm now also Gents Recurve winner at the club for the second year running.
I now compete in competitions, both outdoor and indoor, with some great results that I'm very proud of. The best result to date was at the North Wales Archery Society tournament held at Corus Deeside Archery Club shooting a Hereford round coming 1st place overall with a score of 1080. Not only did I get 1st place but I also shot my first 6 gold end.